Remodeling in Ansonia, CT 06401
Save Big! Have a Handyman Remodel your Ansonia Home!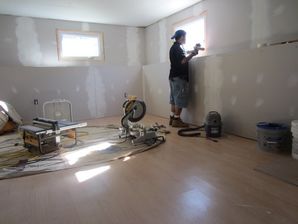 For well over 15 years, Larlin's Home Improvement has provided quality remodeling services in Ansonia, Connecticut. Larlin's Home Improvement has the experience in Ansonia remodeling projects to remodel your Ansonia kitchen, bathroom, and additions. Larlin's Home Improvement provides structural repair, and cosmetic work, including window and door replacement. They can install hardwood floors, tile, vinyl and carpeting; transforming your Ansonia house into the home of your dreams.
Since 2003, Larlin's Home Improvement's has provided quality remodeling service in Ansonia that includes:
Full remodeling services that include structural repair and cosmetic work
Complete window and door replacement, including door jams and casing
Installation of hardwood floors, tile, carpeting, and other flooring materials
Installation of wood trim work, baseboards, wainscoting, crown molding and more
Roofing, siding, framing and insulation
Drywall installation, including painting and staining
Installation of electrical, plumbing and HVAC systems
Exterior landscaping
All finish work
Larlin's Home Improvement has the skills and expertise necessary to complete all small and large Ansonia remodeling jobs. Their affordable pricing allows any Ansonia homeowner to complete their remodeling on time and on budget. Larlin's Home Improvement offers a stable solution to ensure your Ansonia remodel job is done properly, and offer a solid estimate on costs, scheduling and time.
When seeking out premium remodeling in Ansonia, CT at an affordable price, look no further than Larlin's Home Improvement. They offer a full satisfaction guarantee on every Ansonia remodel. Call Larlin's Home Improvement at (203) 267-0607, to speak with a company representative on your Ansonia remodeling project.
---
WHAT CUSTOMERS ARE SAYING:
5★★★★★ - "Needed help putting up window blinds and install a baby gate. The guys were very personable and professional. They were perfectionists. Overall I am happy with their work. Definitely recommend hiring them!"
Kat Clements, Handyman in Ansonia, CT
2018-04-05
---
5★★★★★ - "Larry and his team are professional, creative and brilliant problem solvers when it comes to home maintenance. We have used them many times and have not had a single issue with any of their work. Great job!"
Nick Alexander, Handyman in Ansonia, CT
2018-04-05
---
5★★★★★ - "They came in and replaced and entry door and storm door. The work was exceptional and they cleaned up after like I have never had anyone clean. Would recommend them to anyone who needs work done on their home. Very professional."
Kathy Perez, Doors & Windows in Ansonia, CT
2018-04-05
---
5★★★★★ - "A great job done with a difficult project, finished in less than a day."
Janinne Berlin, Basement Renovations in Ansonia, CT
2018-04-05
---
5★★★★★ - "We absolutely love working with Larry and his team. They delivered a playscape swing set from Norwalk to New Haven and assembled it in time for my son's birthday party. I would highly recommend working with the Larlins team on any home projects you are considering."
James Dormon, Handyman in New Haven, CT
2018-04-05
---
5★★★★★ - "You and your team did an exceptional job Larry, thank you very much. Very professional and very clean. I have your magnet on my refrigerator and I won't be afraid to use it!! :) Thanks again!"
Giovanna, Bathroom / Kitchen Remodeling in New Haven, CT
---
Call for FREE Remodeling Quote
---