Flooring in Hawleyville, Connecticut
Have a Handyman handle your Hawleyville Flooring job and SAVE!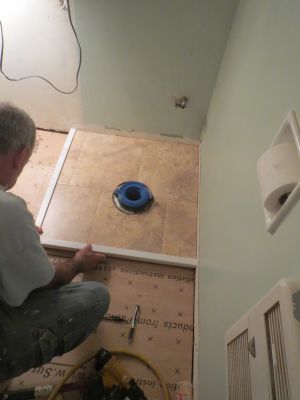 When in search for a professional Hawleyville flooring installer, look no farther than Larlin's Home Improvement. Since 2004, Larlin's Home Improvement has provided premium flooring installation Hawleyville area homes and businesses. They offer top-level service, guarantee their work, and are priced lower than Hawleyville flooring contractors.
Years of Experience – Larlin's Home Improvement flooring handymen have 15 years of expertise installing flooring in the Hawleyville Connecticut area. They have the skills necessary to install a variety of flooring materials in Hawleyville homes, from tile to hardwood, from tear out to completion.
Larlin's Home Improvement's Hawleyville flooring installation services include:
Complete tear out of existing (outdated) flooring material (if necessary)
Removal of existing (outdated) flooring material from property (when necessary)
Inspection and repair of all flooring substrate before installation
Installation of new flooring materials including:

Hardwood floors
Laminate floors
Vinyl flooring
Tile flooring and others materials

Complete refinishing, sanding and polyurethane sealant on all hardwood floors
Installation at an Affordable Price – Call Larlin's Home Improvement at (203) 267-0607 for your Hawleyville flooring installation job done right, to your complete satisfaction, and at an affordable price. They offer a full satisfaction guarantee on all Hawleyville hardwood floor and Hawleyville tile installation, refinishing and repair.

When seeking Hawleyville flooring service, call Larlin's Home Improvement at (203) 267-0607 and learn more about having your Hawleyville floor work performed affordably.
---
Call for FREE Flooring Quote
---
WHAT CUSTOMERS ARE SAYING:
5★★★★★

Daniel R., Handyman in Ansonia, CT

2019-02-20

5★★★★★ - "This is my second experience with Larlin's in roughly a year. They were fabulous the first time and even better with the recent project. Very timely and clean once again. The work was entirely on the roof and their performance was flawless. It's nice to work with a company that is reliable and consistent. Thanks again to Larry and his team."

Dan R., Handyman in Ansonia, CT

2018-11-06

5★★★★★ - "After finding Larlin's online on Angie's list, I contacted them to get a sense of pricing on kitchen appliance installation. Unlike other appliance vendors who demanded full payment at the time of booking, Larlin's gave me a written quote (with ranges based on unknown variables) and scheduled the work within a few days. Larry and Brandon and came out to complete the work. They were thorough, professional, and did a great job at a reasonable price. It feels like I have a new kitchen! I'm already in the process of quoting other work with them. I highly recommend their work, and I've already passed their card onto a friend!"

A Google User, Appliance Installation in Ansonia, CT

2018-10-16

5★★★★★ - "Mr. Larry and his son Brandon were very professional. They exceeded my expectations. I will definitely be calling them again for other projects. Did some extra things that were not on my list. I thank you both for the excellent work done."

C Delgado

2018-09-06

5★★★★★ - "After finding Larlin's online on Angie's list, I contacted them to get a sense of pricing on kitchen appliance installation. Unlike other appliance vendors who demanded full payment at the time of booking, Larlin's gave me a written quote (with ranges based on unknown variables) and scheduled the work within a few days. Larry and Brandon and came out to complete the work. They were thorough, professional, and did a great job at a reasonable price. It feels like I have a new kitchen! I'm already in the process of quoting other work with them. I highly recommend their work, and I've already passed their card onto a friend!"

A Google User, Appliance Installation in Ansonia, CT

2018-09-04

5★★★★★ - "Brandon and Tony were excellent. They courteously, competently, efficiently completed five minor projects in my new home. I'd certainly contact Larlin's, again, if I had additional projects."

Christopher Trombly, Handyman in Ansonia, CT

2018-07-11

5★★★★★ - "They were the best to work with. Very good price, very professional. I would recommend to anyone to hire them for any type of home improvements. I will hire them again in the future."

Kathryn P. in Ansonia, CT

2018-06-01

5★★★★★ - "They were fast and reliable. Fantastic job."

Maritza Williams in Ansonia, CT

2018-05-02

5★★★★★ - "Could not be happier with the work done at my home. The vanity installed looks better than I thought it would. They are very professional and everything is left clean when they leave. Would recommend them to anyone who needs work done on their home."

Kathryn in Ansonia, CT

2018-04-23

5★★★★★ - "Needed help putting up window blinds and install a baby gate. The guys were very personable and professional. They were perfectionists. Overall I am happy with their work. Definitely recommend hiring them!"

Kat Clements, Handyman in Ansonia, CT

2018-04-05

5★★★★★ - "Larry and his team are professional, creative and brilliant problem solvers when it comes to home maintenance. We have used them many times and have not had a single issue with any of their work. Great job!"

Nick Alexander, Handyman in Ansonia, CT

2018-04-05

5★★★★★ - "They came in and replaced and entry door and storm door. The work was exceptional and they cleaned up after like I have never had anyone clean. Would recommend them to anyone who needs work done on their home. Very professional."

Kathy Perez, Doors & Windows in Ansonia, CT

2018-04-05

5★★★★★ - "We absolutely love working with Larry and his team. They delivered a playscape swing set from Norwalk to New Haven and assembled it in time for my son's birthday party. I would highly recommend working with the Larlins team on any home projects you are considering."

James Dormon, Handyman in New Haven, CT

2018-04-05

5★★★★★ - "A great job done with a difficult project, finished in less than a day."

Janinne Berlin, Basement Renovations in Ansonia, CT

2018-04-05

5★★★★★ - "You and your team did an exceptional job Larry, thank you very much. Very professional and very clean. I have your magnet on my refrigerator and I won't be afraid to use it!! :) Thanks again!"

Giovanna, Bathroom / Kitchen Remodeling in New Haven, CT
---
Call for FREE Flooring Quote
---